As we enter week three of Ironstone Impact, we are happy to announce that we've selected the Merrymount Family Support and Crisis Centre to receive $10,000 to further their impact within London.
Merrymount offers safe, supportive and strength-based intervention to help children and families as they navigate through and beyond crisis. The only center of its kind in Canada, Merrymount ensures that families and children have the support they need to grow up strong, form healthy relationships, and know they are valued and loved.
"We recognize that Merrymount is a much needed service in London for families that are suffering. So many kids suffer everyday in our community and we don't see it. Thankfully there are organizations like Merrymount there to help," says Allan Drewlo, Ironstone Vice President & Co-founder.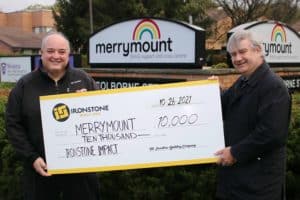 As a recipient of our Ironstone Impact last year, we learned that our donation went towards Merrymount's Crisis Residential/Respite Program. The Crisis Residential/Respite Program (CR/RP) is one of Merrymount's most critical programs and provides a high quality, licensed residential program offering 24/7 continuous care for children who are experiencing mental health challenges/concerns, extreme poverty or are at risk due to precipitating factors with the family (trauma, toxic stress, attachment concerns, etc.) This year our donation will once again go towards supporting the Crisis Residential/Respite Program (CR/RP).
"More and more families in the London area are turning to Merrymount for help. Of the 18 beds that are available at our centre, only 7 are paid for by the Ministry of Health. The rest comes from support of donors, such as Ironstone, who understand the challenges we are facing with unstable housing in this city," says Paul Howarth, Executive Director of Merrymount Family Support & Crisis Centre.
We are happy to support the team at Merrymount and are very grateful for their impact within London, Ontario.
If you wish to donate to Merrymount, visit the link here.
To find out which charity we will donate to next week, check back next Thursday November 4th!