For our tenth week of Ironstone Impact our donation was determined by a staff vote. Children's Health Foundation was selected to receive the $10,000 donation.
Children's Health Foundation offers assistance to children that are faced with a serious health issue. Impacting more than 56,000 children each year across Western Ontario, the foundation provides lasting change through support of three outstanding partners in health care: Children's Hospital at London Health Sciences Centre, TVCC and Children's Health Research Institute.
"We are so proud of the hard work our employees have contributed throughout the year and we are happy to make this donation to Children's Health Foundation on their behalf," says Dave Stimac, President of Ironstone. "Our team was touched by the work being done through the Children's Health Foundation and it's an honour to have the opportunity to give back to this very important local organization."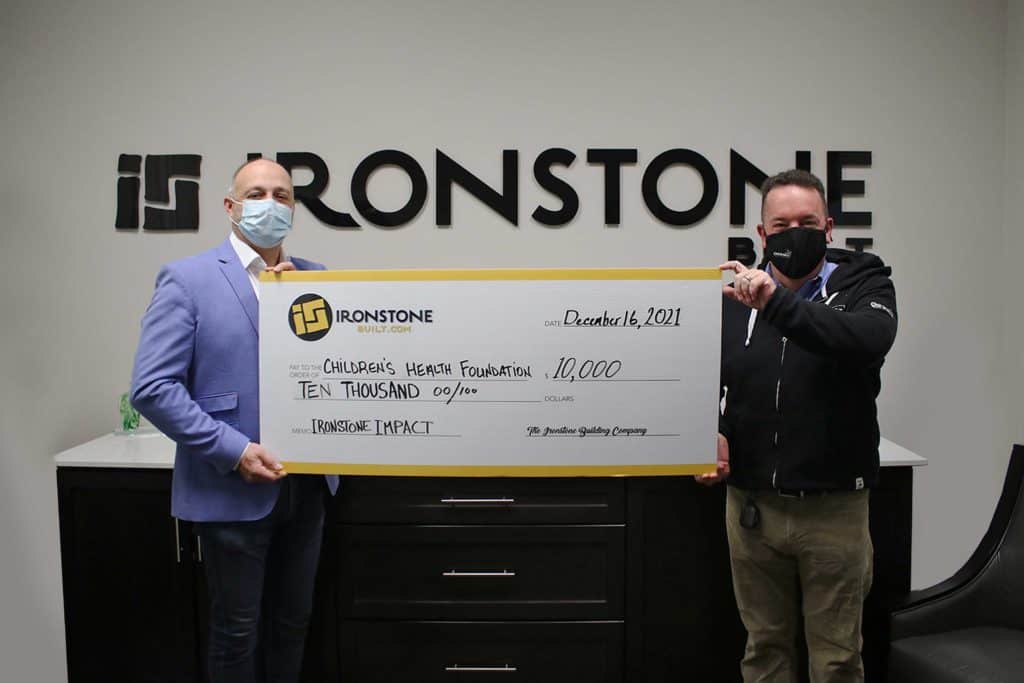 Ironstone's commitment of $10,000 to Children's Health Foundation through the Stand By Me campaign directly contributes to four urgent and critical areas: emotional safety programming, financial relief, mental health services and medical equipment support to ensure the best possible care and most possible hope for critically ill children and their families.
From expressive therapies that help patients laugh, play, sing, and feel emotionally safe during treatment, to upgrades for equipment like isolettes, which make sure fragile babies stay safe and warm in a specialized environment, you help our kids receive the best possible care while also supporting the people they need most: their families and health care teams. Ironstone's generosity empowers medical professionals to remain on the cutting-edge of medicine, while also giving parents vital emotional and financial support to relieve their stress and worry.
As a Stand By Me Champion, Ironstone's generosity ensures that children's health care in Western Ontario is at its strongest – to make it through these uncertain times. They help provide the best care and most hope.
"What a wonderful holiday surprise! Children's Health Foundation is honoured to be chosen as an Ironstone Impact donation recipient," describes Scott Fortnum, President and CEO of Children's Health Foundation. "Your generous support will help ensure the best possible care for our children this season. From care enhancing programs to life saving equipment, thank you for standing by our kids as the pandemic rolls on. You are making a positive impact for our families at Children's Hospital – thank you!"
If you wish to donate to The Children's Health Foundation, visit the link here.
Our 11th week of Ironstone Impact will be determined by a public vote. Click here to submit your vote today!