Big Brothers Big Sisters of London and Area was voted by the community as the winner of the final $10,000 Ironstone Impact donation.
The donation to Big Brothers Big Sisters of London and Area is a part of the company's 11 weeks of Ironstone Impact. In celebration of the company's 11 year anniversary, The Ironstone Building Company donated $10,000 each week to local organizations that create an impact in the City of London.
"We want to thank every charity that participated in our Ironstone Impact public vote and everyone who took time out of their busy schedules to vote," says Dave Stimac, President of Ironstone. "We're thrilled to conclude our 11-year anniversary celebrations on such a high note and are happy to present Big Brothers Big Sisters of London and Area with the final $10,000 donation."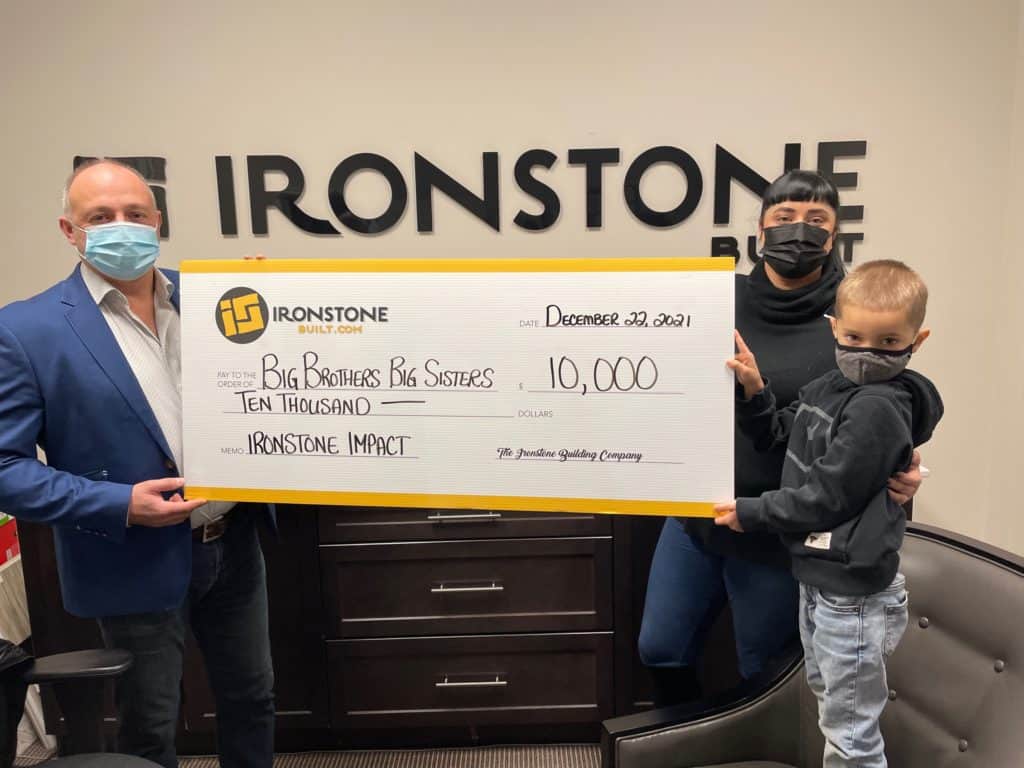 Big Brothers Big Sisters of Canada is an organization that champions the health and wellbeing of youth. They step in before it's too late, to help prevent the physical and mental effects of adverse childhood experiences. Children as young as 7 are supported by caring adults as they overcome these adversities, helping them to do better in life – physically, mentally, socially, emotionally, and academically.
The kids Big Brothers Big Sisters serve are young people who are facing adverse childhood experiences like poverty, an unstable family unit, poor mental health or witnessing violence in their homes. Without intervention, the trauma of these experiences can last a lifetime. Fortunately, research shows that if we intervene early on and provide these children with a 1:1 mentor, we can dramatically improve their lives. This donation will be put towards matching more young people in our community with a caring mentor (a Big) who will spend time with them each week. With a Big they'll be more likely to finish school, form stronger social connections, and grow up to become adults who give back to their community.
"While the pandemic has been hard on us all, it's been particularly tough for the kids we serve as it has intensified the hardships they were already facing. Because of this, Ironstone's extraordinary gift could not have come at a better time. It will allow us to provide the lifeline of a Big to more children in need and give them access to the bright future they so deserve!" says Janet Tufts, Executive Director of Big Brother Big Sisters of London and Area.
If you wish to donate to Big Brothers Big Sisters, visit the link here.