2020 marks Ironstone's 10th year of building homes and we are celebrating with 10 weeks of giving back. Until the end of the year, we will be donating $10,000 each week to an organization that creates impact in the City of London.
Our first week of giving back was dedicated to Habitat for Humanity Heartland Ontario.
"We are very grateful to the Ironstone Building Company for this generous donation, and their continued support of Habitat Heartland," says Brian Elliot, CEO Habitat for Humanity Heartland Ontario. "Thank you, Ironstone for helping us build strength, stability and self-reliance through affordable homeownership for local families."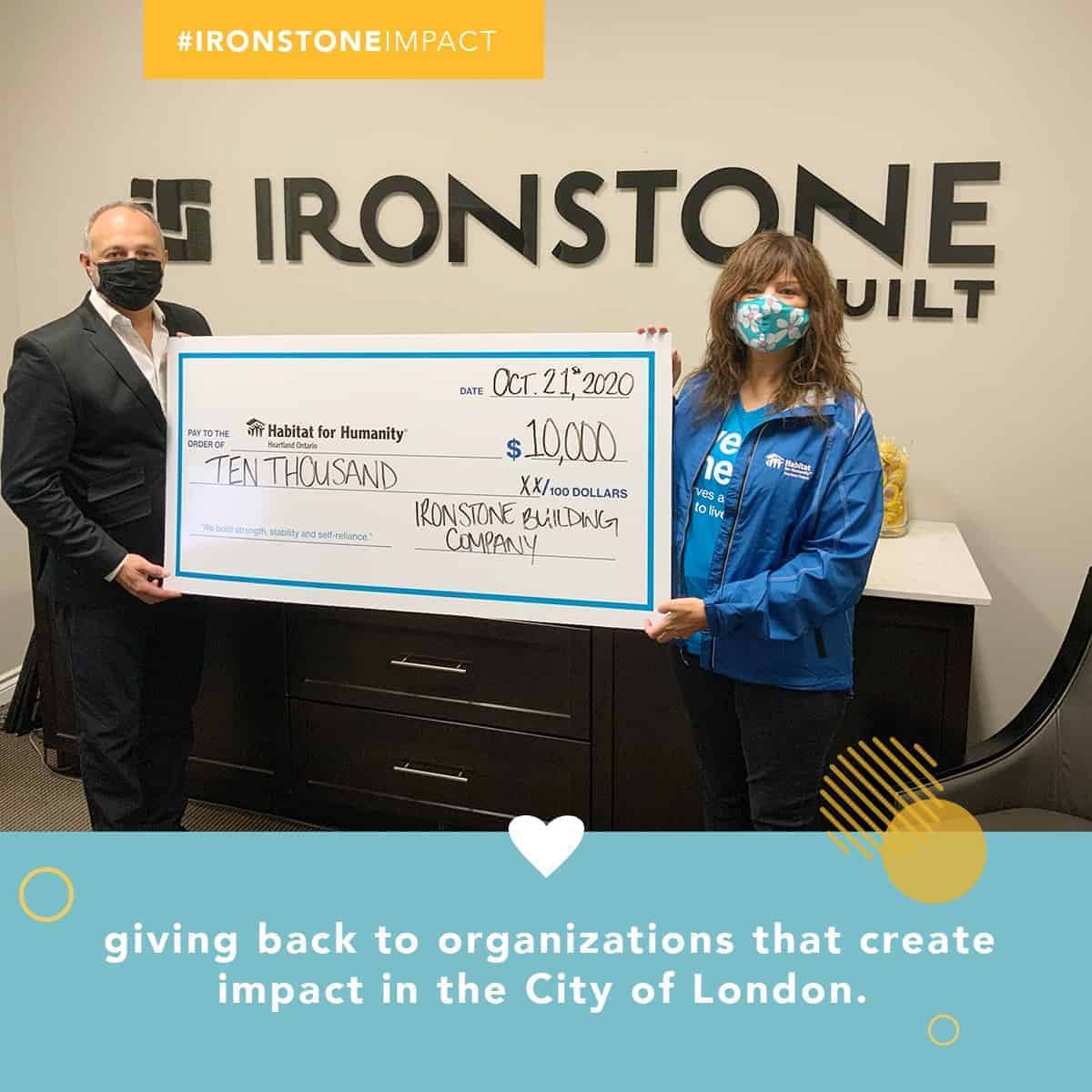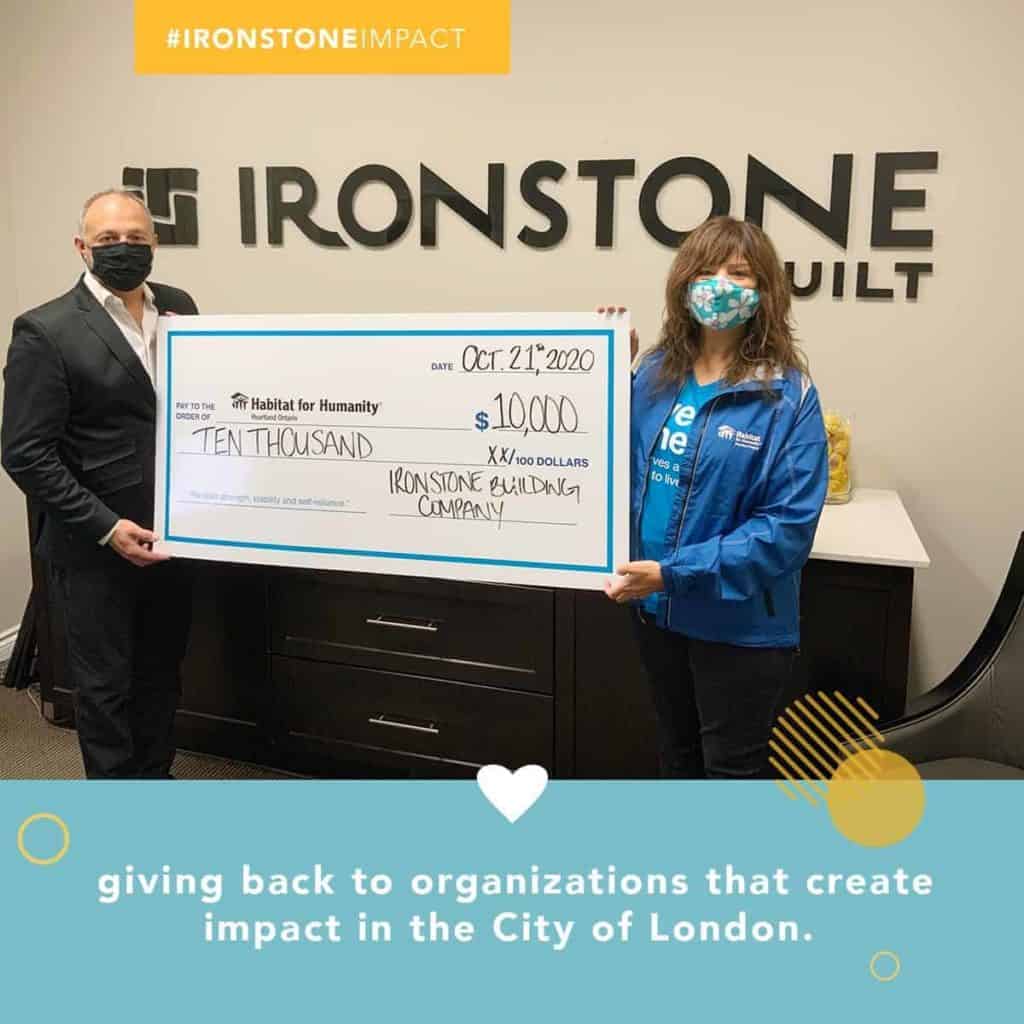 Our second week was dedicated to Merrymount Family Support & Crisis Centre and you can read more about about how the organization is allocating the funds in the London Free Press.
"Thank you to The Ironstone Building Company for your extremely generous donation to Merrymount Family Support and Crisis Centre. Your gift will help to ensure that Merrymount's critical supports continue to reach children and families in our community," says Paul Howarth, Executive Director of Merrymount Family Support & Crisis Centre.
There are eight weeks of giving left and every Wednesday we will announce our newest #IronstoneImpact donation.
"We want to give back to the community," said Dave Stimac, Ironstone President & Co-founder. "We are born and raised Londoners with a strong attachment to the city. We build here, we employ trades and suppliers here and we know organizations are having a hard time."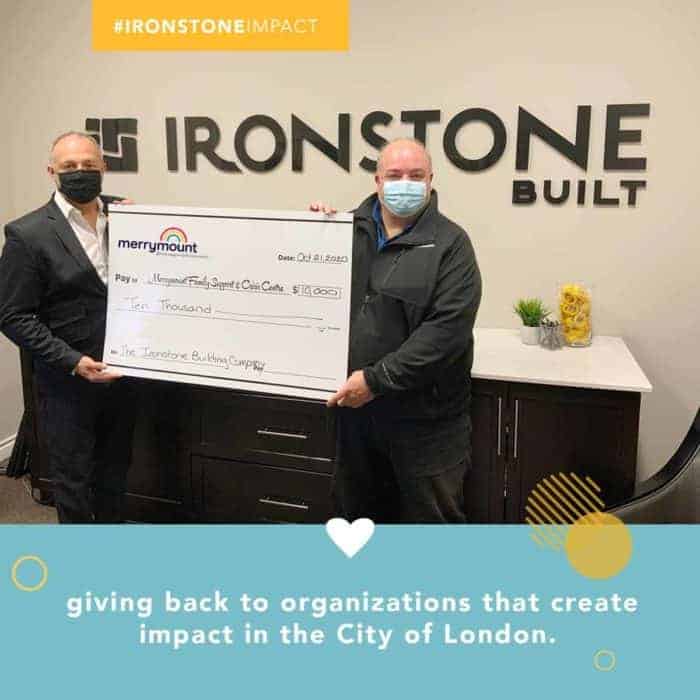 The recipient of the donation during week nine will be selected by Ironstone staff members and the final recipient will be determined by the community.
"The Ironstone team is honoured to be giving back to local organizations that create impact in the City of London. We're also looking forward to the community's participation," says Allan Drewlo, Ironstone Vice President & Co-founder. "The last week of donations will be directed by a public vote on The Ironstone Building Company's website."
Follow us on Facebook for updates on our 10 weeks of #IronstoneImpact.